BMW BOXER R1 DESMO Test: Stillborn Superbike
Only test ever made by any journalist of BMW's prototype Boxer Superbike
A quarter of a century ago in 1992, BMW unveiled its born-again Boxer R1100, the descendants of which are still with us today in R1200 guise. This fuel-injected eight-valve twin with Telelever front suspension underpinned the German manufacturer's resurgence in the following decade, when BMW Motorrad's sales volume tripled from a mere 30,000 bikes a year at the start of the 1990s to close on 90,000 units annually by the turn of the millennium. BMW sold 145,032 motorcycles to customers in 2016, compared to 136,963 in 2015 – and that spiralling growth began exactly 25 years ago this year.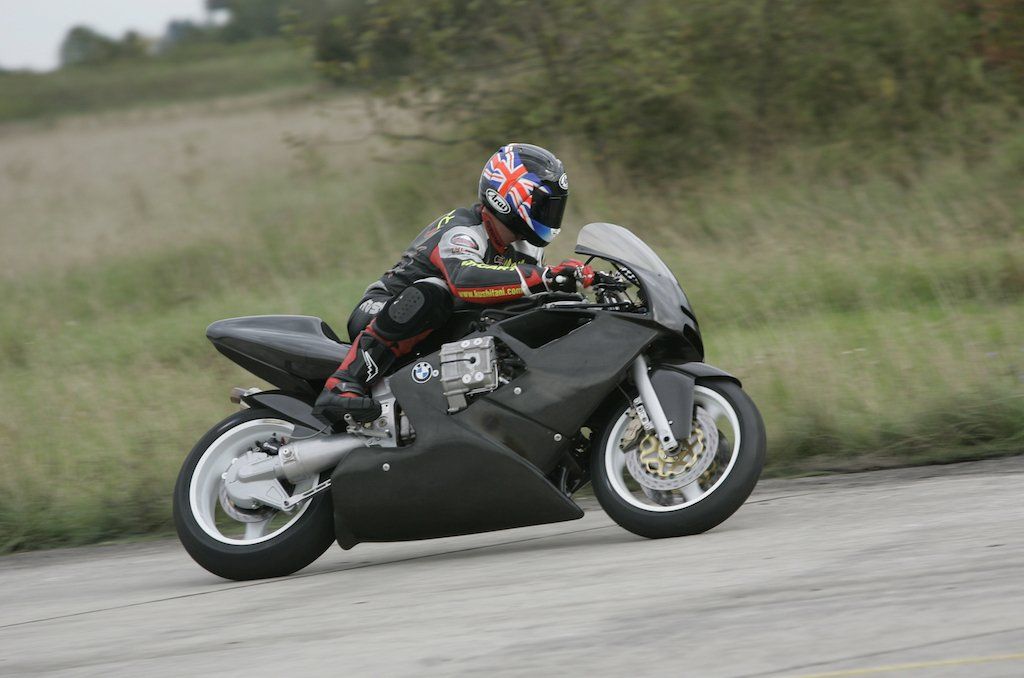 But at the same time as creating the all-new high-cam five-speed engine, code-numbered R259, that would power the resurgent Boxer family, BMW Motorrad's Technical Director Dr. Burkhard Göschel gave his 200-strong team of R&D engineers another task. This was to develop a liquid-cooled dohc six-speed Superbike racer, still employing BMW's trademark flat-twin Boxer engine format, but developed to deliver competitive performance versus the 90º V-twin desmo Ducati that was by then established as the bike to beat in World Superbike racing. For the Italian company won the title in 1990 when Raymond Roche overturned two years of Honda domination to prove twins could indeed beat fours - especially with a 250cc capacity advantage (1000cc against 750cc) and reduced 140kg minimum weight limit, against 165kg for fours and triples.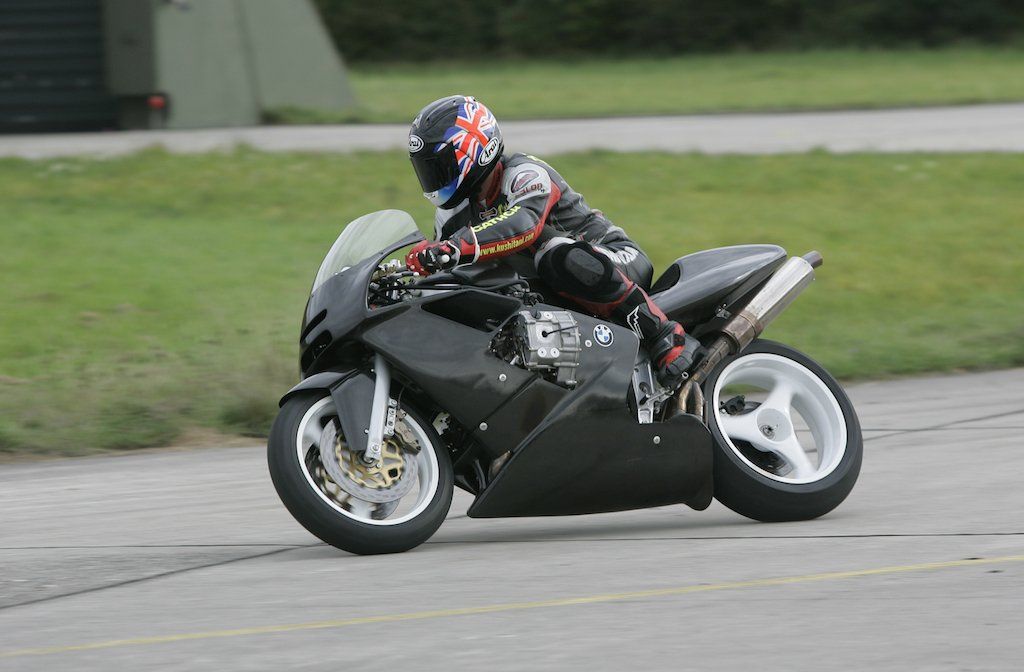 However, BMW hadn't road raced competitively for 15 years, not since the dawn of Superbike racing in the mid-'70s when the Butler & Smith R90S Boxers ridden by Reg Pridmore and Steve McLaughlin won both the first-ever Daytona Superbike race and the inaugural AMA Superbike title, while across the Atlantic Helmut Dähne took his R90S BMW to victory in the Isle of Man Production TT. Since then, the German company had sat on the sidelines while its Italian counterpart Ducati swam against the tide with its desmo V-twin, eventually turning it into the dominant force of Superbike racing. At the same time, though, BMW Motorrad's four-wheeled cousins had transformed their brand image from slightly stuffy to ultra-sporty via a racing campaign yielding serial Touring Car race wins and titles, with spinoff showroom success in their wake.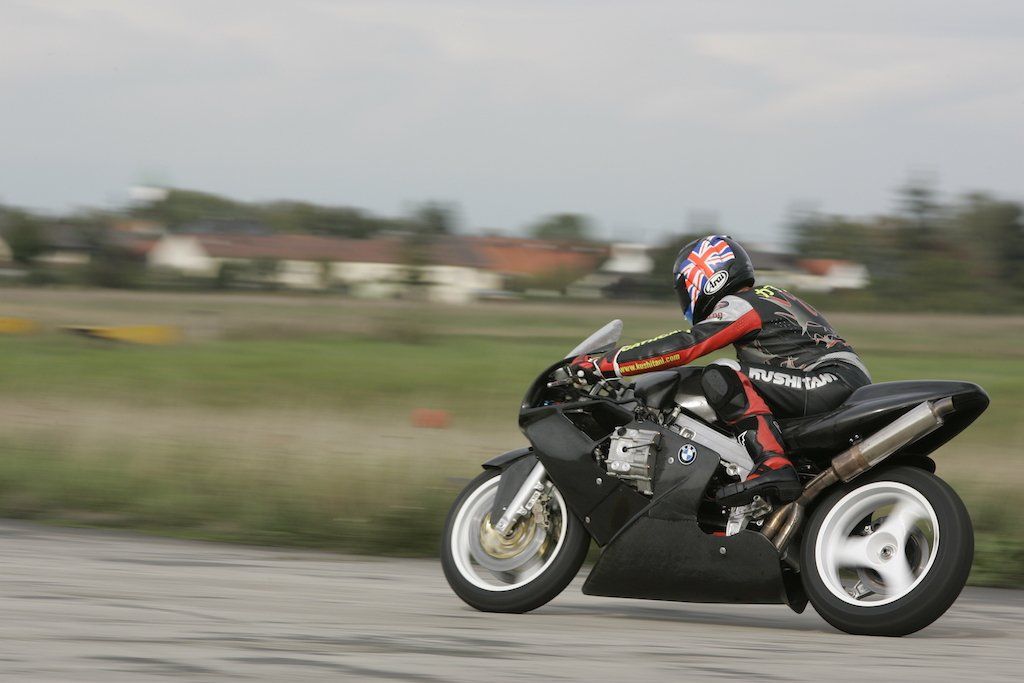 So, as a means of following in the tyretracks of their car counterparts, and endowing the German firm's motorcycles with the same kind of sporting allure as the products of its car division, BMW Motorrad management decided to develop a prototype Boxer Superbike racer, to see if it could be made competitive with the Ducati paragon - in which case a customer street version would surely have followed, to allow the company and its customers to go Superbike racing with the result. So in 1990, at the same time as producing the born-again Boxer road bike's air/oil-cooled engine – commonly known as the Oilhead motor - BMW's chief engine designer Heinz Hage and his R&D team set to work creating a second, completely different watercooled flat-twin engine under the R1 label. But with a 1000cc ceiling for Superbike twins, this had nothing in common with the concurrent R1100 volume production motor - indeed, BMW literally turned that design upside down to create what it was hoped would be a competitive and practical race package.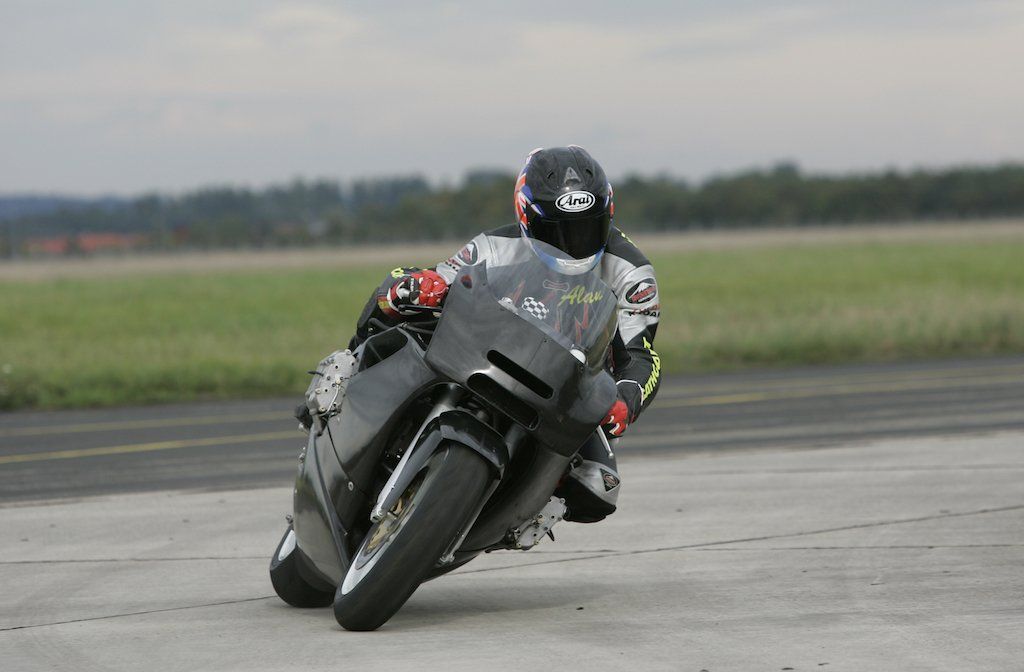 This entailed firstly reversing the layout of the traditional Boxer engine, by placing ancillary parts like the alternator and starter motor normally positioned on top of the flat-twin motor, instead beneath the raised cylinders of the R1, to help achieve the substantially improved ground clearance at full lean needed with slick tyres. While retaining BMW's traditional shaft final drive via the by then established Paralever rear end, an all-new six-speed gearbox was located beneath the motor rather than behind it as on street Boxers, driving through a sintered-bronze single-plate dry clutch with diaphragm operation. This transmission was readily extractable so that internal ratios could be swapped inside 30 minutes in the pit garage, GP-style.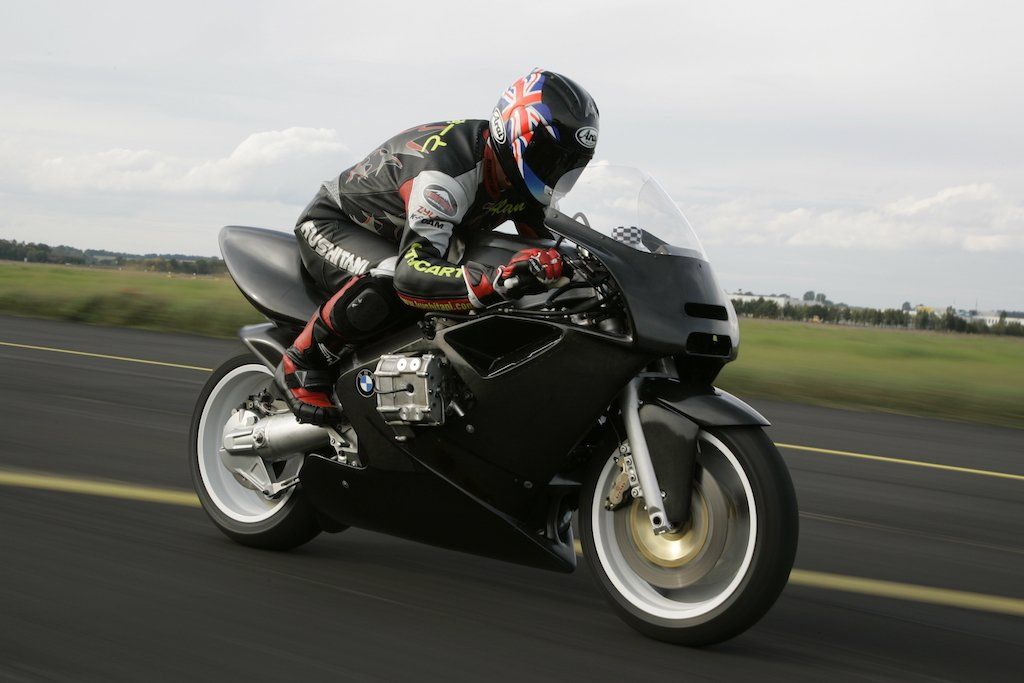 At the same time, Hage and his team rotated the horizontal Boxer cylinders 90-degrees to deliver improved induction and a more rational riding position. So, instead of the exhausts exiting out the front of the sticking-out cylinders, and the throttle bodies mounted behind them (where they usually interfered with the rider's feet, often requiring the seat to be located further rearwards than was ideal in terms of overall weight distribution), thanks to the extra space provided by the RennBoxer's revised architecture, and the fact the engine was mounted high in the frame with the crankshaft no less than 520mm above the ground, on the R1 the exhaust ports pointed at the ground, and the intake at the sky. This layout delivered 100% downdraught for the twin 54mm throttle bodies, each fitted with a single side-mounted injector, and a TPS throttle position sensor linked to the Bosch EFI. These were fed via vertical ducts from the airbox located in the front part of the fuel tank shroud, with the 18-litre fuel load carried behind in a tank extending downwards. At the same time, the four-valve cylinder heads with chain-driven double overhead camshafts saw the lower (exhaust) camshafts staggered slightly so that they snuggled closer to the piston than the inlet cams, in order to further improve ground clearance at full lean. This trick was later emulated by Ducati on their 1996 V-twin's lower, horizontal, cylinder, to let the engine be mounted further forward in the frame, without the front tyre hitting it under braking. But BMW had the idea first, same as the R1's 98 x 66 mm engine dimensions, later adopted by Ducati themselves in 1995, and by Suzuki on its TL1000R 90º V-twin Superbike later in the decade.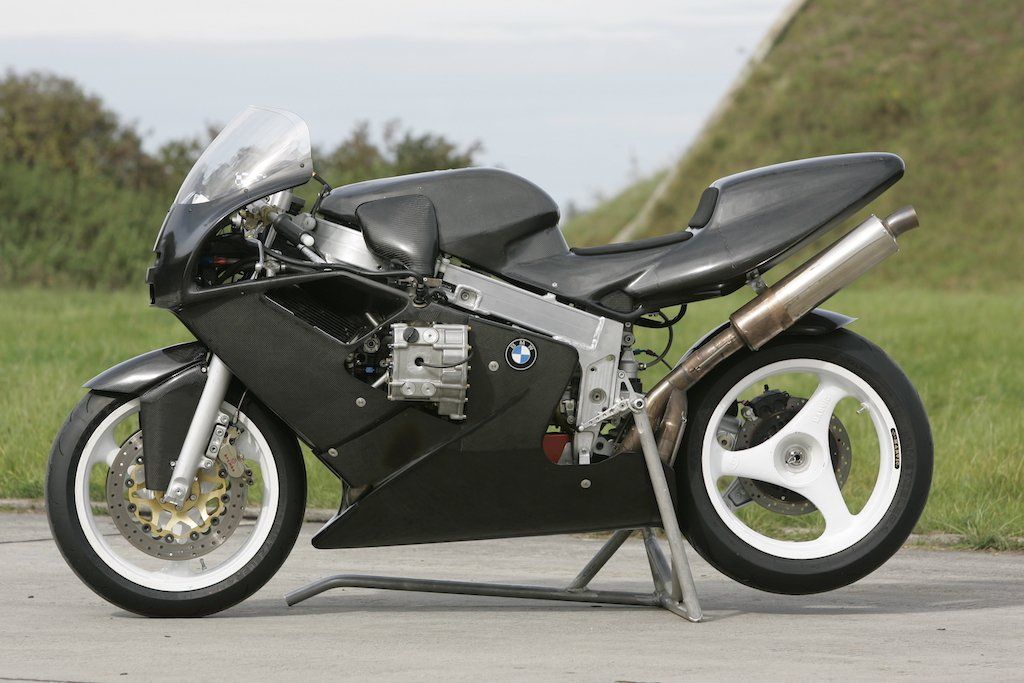 But dues were reversed when it came to the R1 Boxer's cylinder head design. For Burkhard Göschel had been a top engineer at Daimler-Benz before joining BMW's car division in the 1980s, transferring to the Motorrad side in 1989 by which time the R1100 Boxer project was well under way, its overall format having been agreed back in 1986. Göschel was a fan of desmodromic positive valve operation, not only because of its proven worth in Ducati's Superbike application, but also from studying the ultra-successful Mercedes-Benz W196 GP racer during his time there. This dominated the Formula 1 World Championship for two seasons in 1954-55 with its desmodromic straight-eight engine, which also powered Stirling Moss and World Sidecar champion Denis Jenkinson to victory in the 1955 Mille Miglia - the only time a non-Italian car ever won that gruelling race.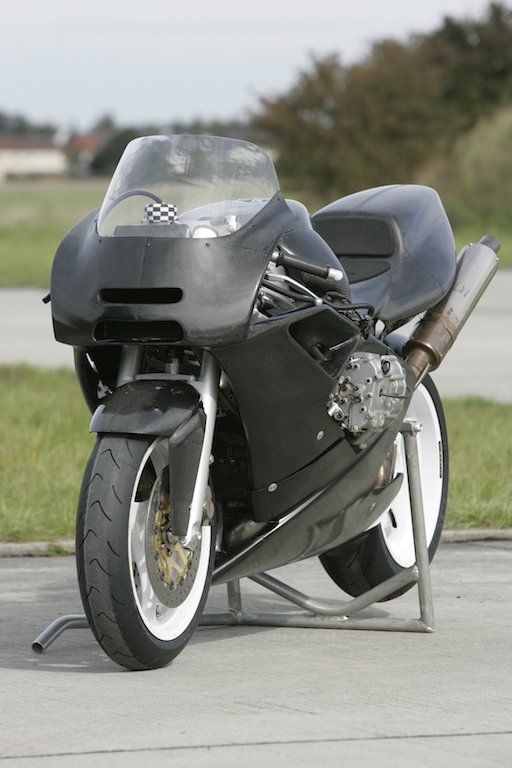 Göschel reasoned that the radical camshaft design with wild valve timing and extreme lift which a desmo cylinder head's positive valve operation permits, was one reason for Ducati's twin-cylinder Superbike success, not to mention the extra power obtained at higher piston speeds without resorting to the pneumatic valve gear then already commonplace on Formula 1 cars, but impractical for use on a streetbike that could provide the basis for Superbike homologation. So BMW's cylinder head expert Georg Emmersberger was directed to develop a four-valve desmo cylinder head design for the R1, with its pairs of titanium valves (38mm inlets and 33mm exhausts) set at a very flat included angle of barely 20 degrees. Thus the plain-bearing one-piece crankshaft which supported a pair of Pankl titanium conrods (another feature shared with Ducati) mounted side by side on it, each carrying a forged two-ring Mahle piston running in a Nikasil-plated cylinder, drove a half-time idler shaft mounted beneath it. This in turn drove twin chains running to the two (lower) exhaust camshafts, whence a secondary chain in each head drove the inlet cam. This modular layout was a chain-drive copy of the bevel-drive valvegear in BMW's legendary Rennsport 500cc Boxer GP motor, which finished runner-up to the four-cylinder MV Agusta in the 500GP World Championship in 1956, as well as winning no less than 19 World Sidecar GP titles over a 21-year period. But each cylinder head's valvegear thereafter followed the Ducati model, with four lobes on each camshaft operating four rockers, two per valve - a conventional finger-type one to open it, and a forked one to close it, with small low-pressure springs as on the Italian bike to seal the valves properly at low revs, and provide for easier starting.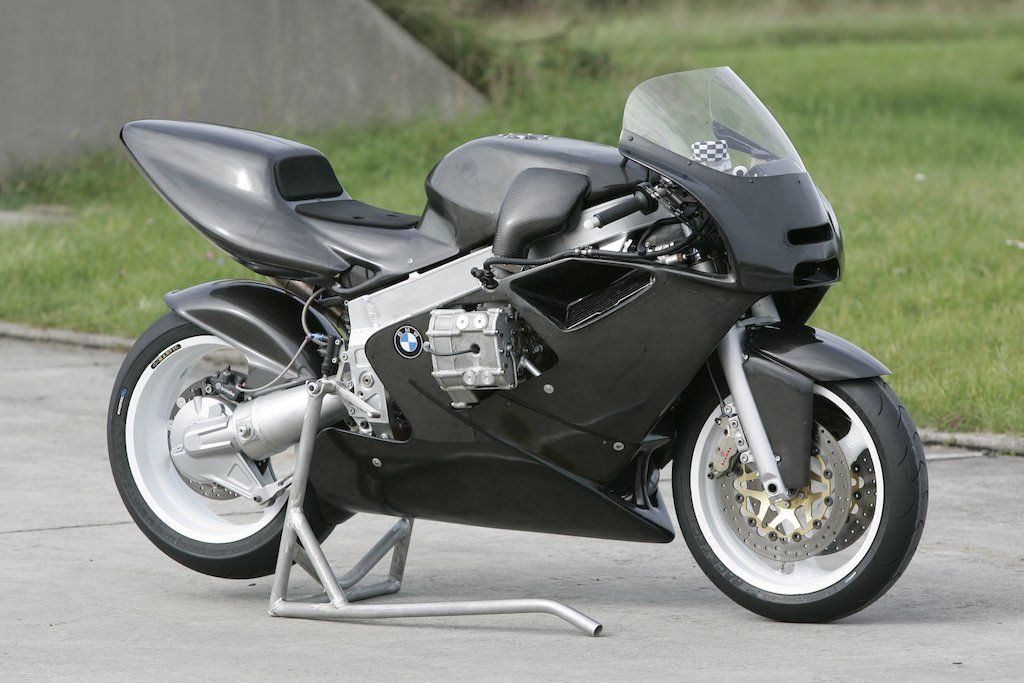 To house the engine, BMW commissioned a dedicated twin-spar aluminium race chassis from their established supplier Nico Bakker, the Dutch frame guru who already in 1990 had created a prototype ProTwins racer for BMW tester Herbert Enzinger to race under the aegis of BMW dealers Handrich & Mayer. I myself raced many times against this factory prototype powered by an air-cooled R100R two-valve Boxer motor, which employed a Telelever front end as part of the R1100 R&D programme, and was impressed enough with the way it handled to sign up a few years later to race the Saxon Triumph, whose Saxtrak front end was in fact copied by BMW in creating the Telelever. In the winter of 1991/92 Bakker produced an evolution of this chassis to create the R1, but with the bulkier dohc desmo engine mounted much higher in the frame, for extra ground clearance at full lean on slick tyres.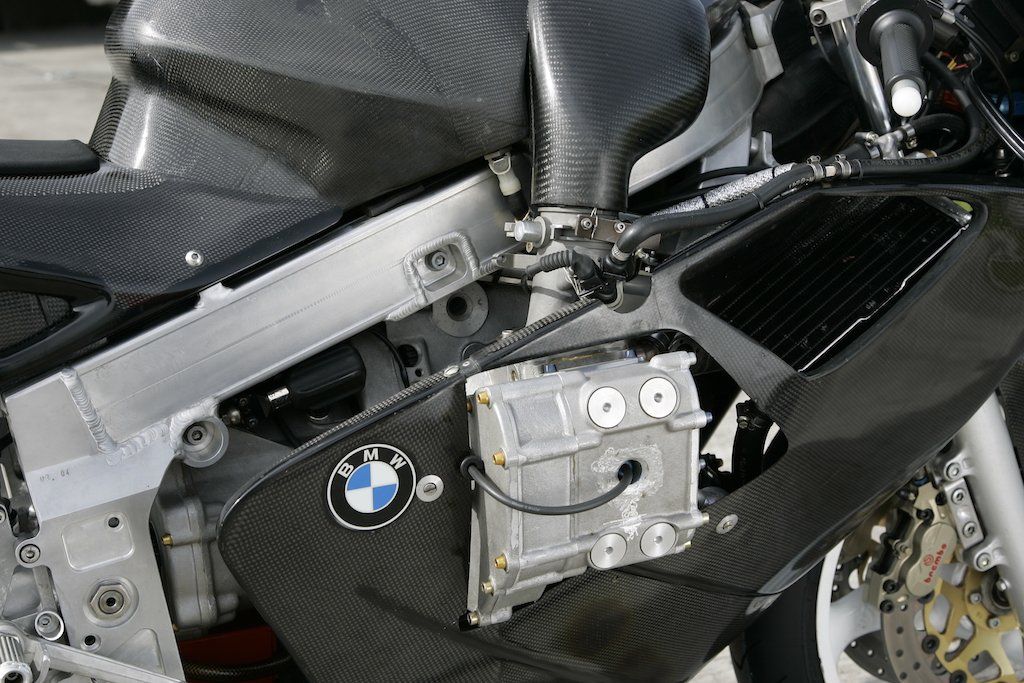 Fitted with Brembo brakes, Marvic 17-inch wheels and a fully-adjustable WP shock at each end, the result was unexpectedly compact, and reasonably light for a shaft-drive twin, according to Bakker. "We built three frames, and I was pleased with the way they came out," recalls Nico today, "although we had to make a new housing for the drive shaft so as to shorten the swingarm compared to the R1100 streetbike – we got it down to just 1465mm, which is short for a BMW. Plus, despite the heavy cardan unit we ended up with a 50/50% weight bias, which came from mounting the engine quite far forward in the wheelbase, since there's no deflection from the Telelever front end. The weight itself wasn't bad, either, after our expert panel-beater Cees Smit made the original fairing, seat and the fuel tank in aluminium, and BMW took carbon moulds off these. Once fitted with carbon fibre bodywork, which was quite rare back then, it weighed in at 160kg dry, so it was competitive with the fours, though quite a bit heavier than the Ducatis were allowed to be at that time."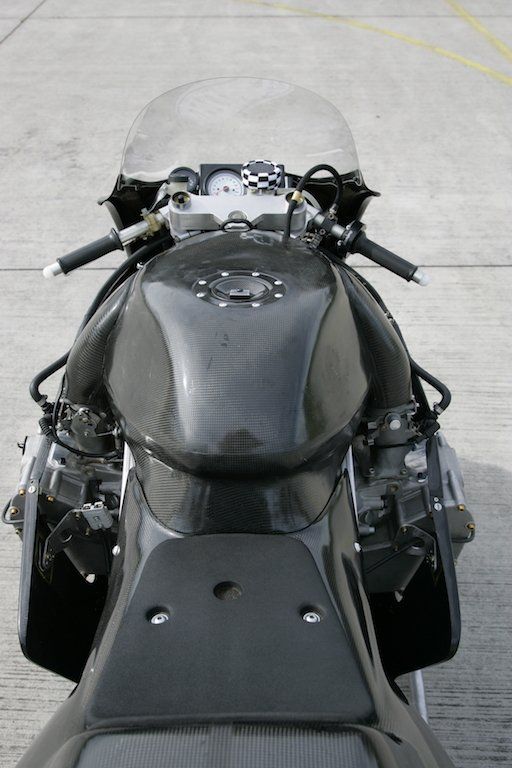 To underline this, Doug Polen's factory 888 desmo V-twin with which the Texan won the second of his two World Superbike titles in 1992, weighed in at 142kg with oil and water when I tested it at Misano midway through that season - a ride most likely concurrent with one of Herbert Enzinger's tests of the BMW R1 further up the Adriatic at the Rijeka circuit. "We finished the bike in the Spring of 1992, and wanted to go somewhere that was quiet and out of the way to test it," recalls Gert Helm, Enzinger's race engineer who built up the R1, and looked after it during his rider's test programme. "We went there a couple of times, and were making progress - but there were two problems we couldn't overcome. One was aerodynamics, because with a Boxer engine the bike couldn't help being wider than a Ducati - and the second was power. We began with 132 bhp on the first dyno run, and eventually got 140 bhp at the crankshaft from the engine, at 11,000 rpm - but we felt we needed another 15-20 bhp more to be truly competitive, and we couldn't see how to obtain this while still having a usable power delivery. For BMW, it's not enough to score points finishing in 8th place - we have to win races. So at the end of the year, our management cancelled the programme, and the only complete bike we ever built went into the cellar in Munich. Pity!"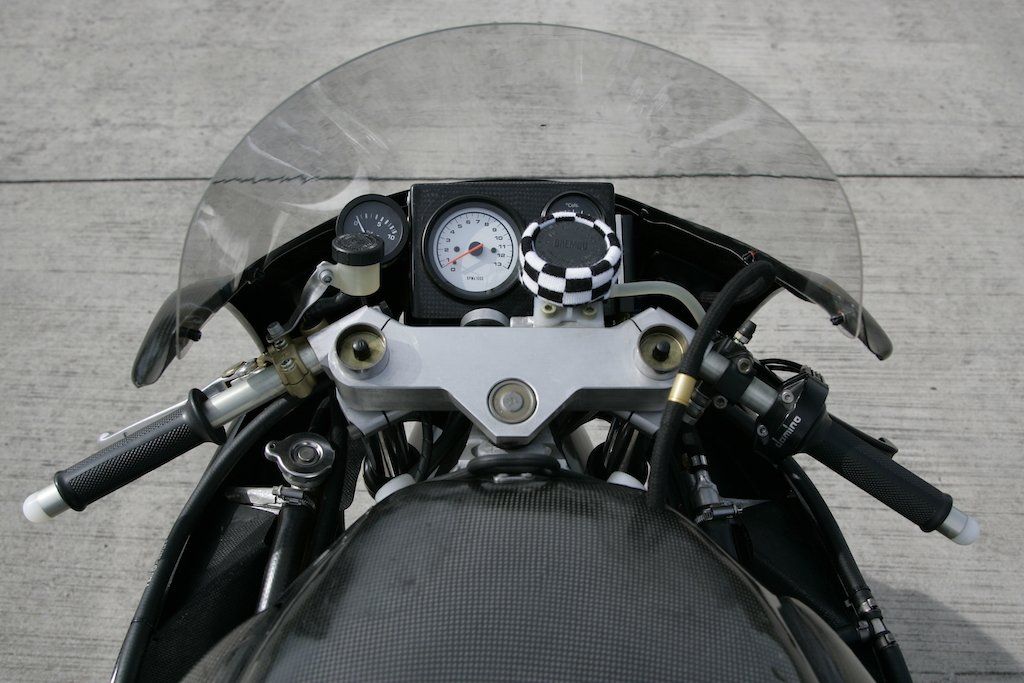 There it might have stayed, but for BMW's praiseworthy Mobile Tradition programme, which sees some of its most historic products and rare prototypes exercised in public. Add in the persuasive charm of Lord March, whose annual Goodwood Festival of Speed held up the driveway of his magnificent English country home and attracting 180,000 spectators each year is one of the world's major showcases for such vehicles - and it was inevitable the R1 Desmo should finally make its public debut there in 1999, returning two years later for a repeat airing in the hands of Herbert Enzinger. But with the decision taken to mothball it for good in the BMW Museum, I was given the exclusive chance to give it a final run round an improvised circuit at a Luftwaffe base to the west of Munich as only the second person after BMW tester Enzinger to sample the R1 desmo Boxer in its stillborn Superbike guise. In doing so, I hoped to be able to answer the questions so many BMW fans will be wondering: was the R1 really any good, and if so, why didn't it reach production?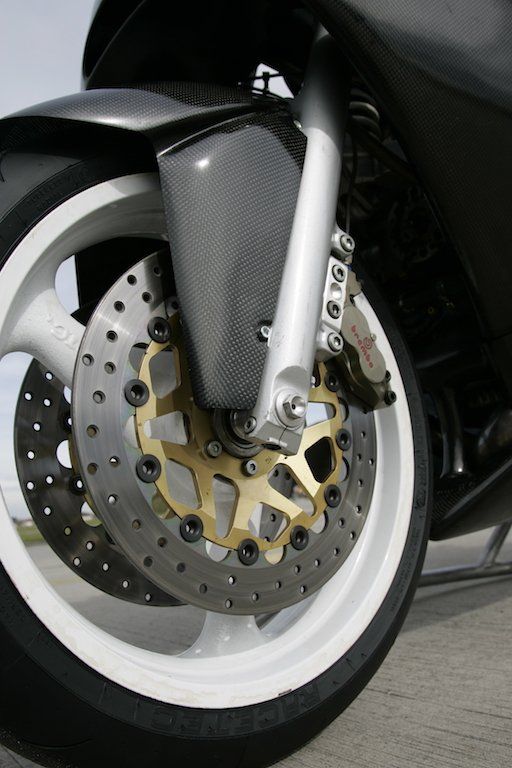 Lined up alongside a current R1200S Boxer, the R1 Desmo looks sharp and not particularly big. But, viewed from behind, it appears massive, with the broad flat-twin motor positioned so high in the frame with the fat cylinder heads reaching outwards, each with four rockers and two camshafts. Clamber aboard, and you'll find an ultra-distinctive riding position with a long reach to the flat-set handlebars, plus wrapping your arms around the vertical intake ducts in the side of the tank makes the BMW seem very wide. Those cylinders do stick out a long way, and though there are no carbs to interfere with your feet, you can't help be aware of the acres of metal parked crossways in the frame in front of you. You must tuck your feet inboard of the wings of the fairing carrying the BMW badge, so you feel wedged in place, making it awkward to move around the bike and impossible to hang off in turns. But the BMW's Telelever front end with the compliant WP shock is quite supple in terms of damping, and offers almost no dive under hard braking, resulting in constant, predictable steering geometry. The RennBoxer definitely isn't agile, though it's evident from looking at the bike without the fairing that the mass is centralised in a way that modern chassis designers would die for.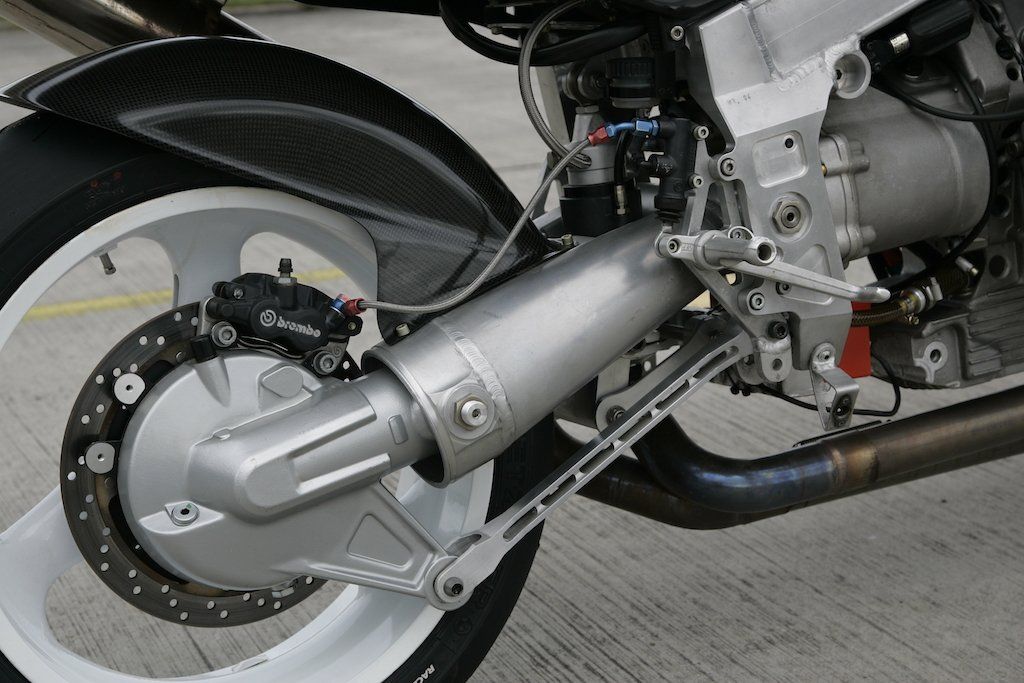 Fire up the RennBoxer motor, and it settles to a fast 1,500 rpm idle, delivered with the trademark drone of a low-flying airplane that's the signature tune of a flat-twin racer. But even as the revs mounted towards the 8,000 rpm revlimit I'd been asked to observe, there wasn't any undue vibration thanks to the Boxer twin's inherently perfect balance. It felt potent and perky, but completely smooth, though running it up to 10,500 rpm just the once on the white-faced tacho showed that vibration did intensify as revs mounted towards the peak power mark. "This was the real reason they cancelled the project," insists Nico Bakker. "At the high rpm needed for competitive power, the vibration got so bad you couldn't ride it for long. We were worried about the frame cracking, though it never did – but you couldn't race it like that."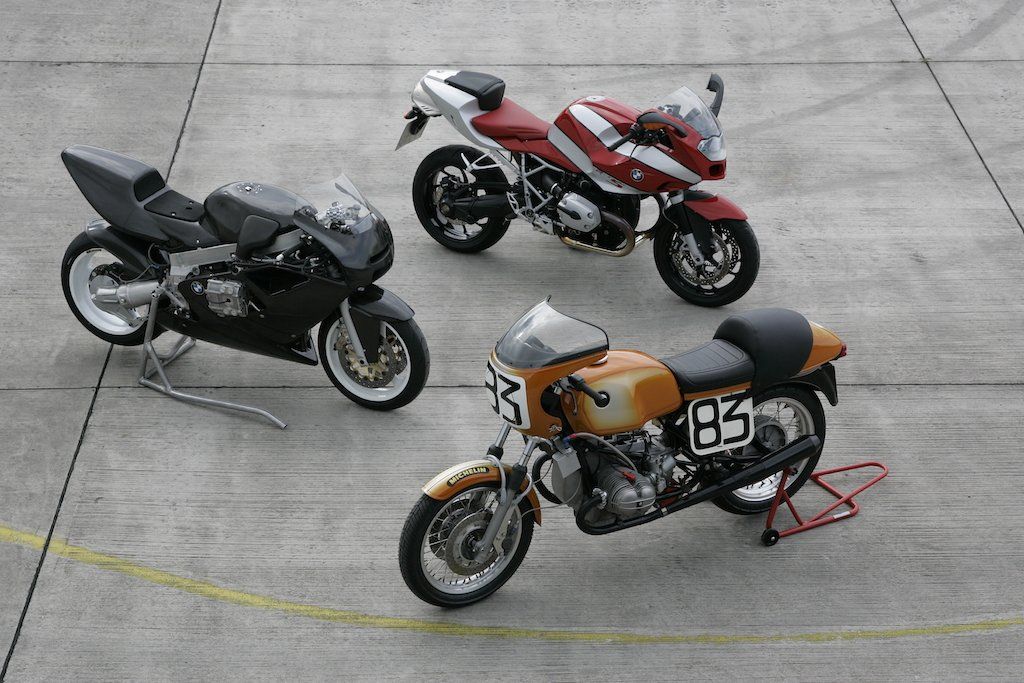 However, even at my reduced revs the R1's power delivery was pretty vivid yet quite linear, with a strong pickup from a closed throttle that had the new Metzeler rear tyre initially scrabbling for grip. But after this jerky initial response, there was good drive from 3,000 rpm on, making this quite a usable road bike had it ever reached the street. But the true power threshold is 5,500 rpm, when the motor suddenly picks up stronger and there's lots of torque for third-gear powerwheelies when you hit a higher gear at the eight grand mark on the clean-shifting street-pattern gearbox.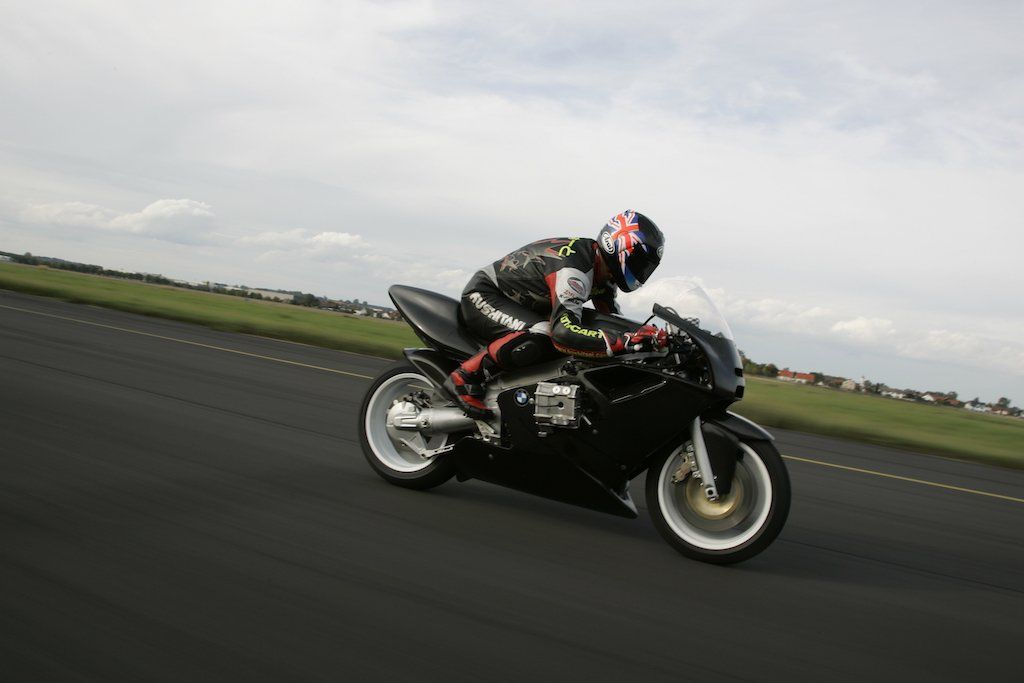 I've ridden many Bakker-framed bikes down the years, all with the same balanced feel as the R1 Desmo, without undue weight on your arms or shoulders, and quite conservative steering geometry delivering predictable if slightly heavy steering. That's an impression magnified by the sheer bulk of the R1 Desmo engine, making it appear wide and awkward at slower speeds in tighter bends. It turns in quite easily thanks to the Bakker magic, but is heavy to lift up again for the exit, or to flip from side to side for a fast chicane. The Telelever front end seemed really planted, though - especially braking hard on the angle over the bumpy Luftwaffe track surface, where the suspension kept right on working to maximum effect on, even as you lean on the right lever and in spite of the slightly soft response by modern radial standards of the R1's period Brembo brakes. Even using engine braking to aid the soft brake package didn't get the rear wheel chattering, though this was the only time I noticed the shaft drive and lengthways crank, as the BMW rocked a little from side to side as I blipped the throttle to backshift with the lack of a slipper clutch.
However, you can't forget how wide the bike is, even if the bodywork delivers good protection at high speed, which even at my 8,000 rpm ceiling was 250 km/h-plus - the R1 was trapped at over 280 km/h in Rijeka tests. Though the watercooled RennBoxer has twin radiators with a surprisingly small surface area parked in the fairing sides, even on a cool day they regularly hit that 100ºC mark in slower sections, and running at just over 90ºC even in a straight line. A street version would have needed a pair of electric fans to help cool it.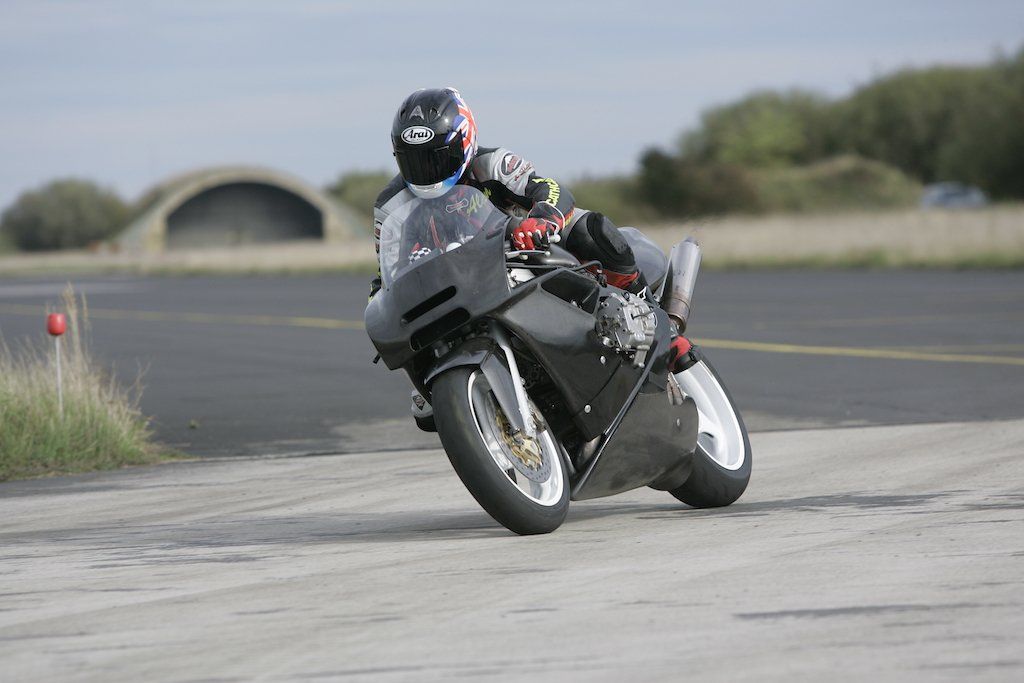 Ironically, the R1 may have been a victim of the changing World Superbike rules, because if BMW had waited just a couple of years, they'd have seen Ducati's decidedly unfair weight advantage first reduced, then eliminated. With the common 165kg minimum weight limit for all types of Superbike, irrespective of the number of cylinders, which was eventually introduced, the flat-twin Desmo's several extra kilos over its Latin V-twin counterpart, amounting to a 13% handicap, would have been cancelled out. That's where the disadvantage truly lay that BMW management apparently felt their prototype RennBoxer suffered from - for at the point that Polen's 1992 title-winning Ducati produced 134 bhp at the rear wheel at 11,200 rpm according to the factory dyno charts I saw when I rode the bike, the 140 crank-horsepower BMW wasn't so far off the pace in relatively undeveloped guise.
I think what tells most against the R1 is its frankly idiosyncratic architecture, which thanks to the bulky high-up engine and awkward riding position is definitely more extreme and hard to adjust to than, say, a modern SportBoxer like the R1200S. That and the overheating, which could surely have been fixed, were the only downsides of a remarkable afternoon spent examining one of the great Mystery Bikes of the 20th century. Could it have been a race-winner? Back in 1993, just maybe - but only on a fast, flowing circuit like Assen, and with a brave rider dedicated to exploiting its performance in the unique way its architecture demanded, for by the standards of mid-'90s SBK regulations the prototype BMW R1 had a competitive power-to-weight ratio. Could it, should it have been built for sale to the public? Yes, it should - it would have made a totally unique and completely individual Boxer sportbike, had BMW invested further R&D to refine it more and round off the edges. But, don't you just wonder how Ducati would have reacted at having a rival desmo twin in the marketplace - and a German one, at that??!
Do you like our work?
Become a DriveMag Riders supporter!
We rely on your donations to cover the most important news on the motorcycle market and create videos that excite, inform, and educate.
Make a one-time contribution or become a monthly subscriber. Every donation, however big or small, is valuable and helps us cover some of the video production costs, like equipment, transportation, and maintenance.
Thank you for being part of this journey.
---