BMW R1200GS Adventure - An Epic Travel to the Caucasus
Join us in a captivating adventure. You'll see some of the most beautiful places on Earth.
It was a sunny day when we arrived in Georgia's Capital - Tbilisi. While Saint George is watching over the Freedom Square, the old city nearby is a vibrant and joyful place.
Have a stop near the Kura River and you can see an interesting architectural mix: futuristic buildings and bridges that connect the new Georgia to its medieval churches and history. And to its fabulous and welcoming people.
Watch our story below and subscribe on our YouTube Channel for similar videos.
After a three-hour ride, we started to get a glimpse of the Great Caucasus Mountains. Just after passing Gudauri, a resort located at 120 kilometers north of Tbilisi, we got our welcome view - a soviet monument built in 1983 that guards the Georgian Military Road - a traditional route used by traders and invaders through the ages.
The Georgian Military Road is known since antiquity and it was used by Russian troops in 1769. It stretches to the Russian Border and there's an endless row of trucks that makes you aware of it.
The landscape is Amazing. It's got that type of Greatness very hard to find on Earth. Just after passing the Jvari pass, you start to realize that you're just a small and insignificant ant in this fantastic place.
After a couple of hours, we left the main road and started to explore the secondary routes that lead to some remote Caucasian villages. There are two different valleys to be explored - the Sno Valley and the Truso Valley, which is dotted with ancient towers and Abandoned ossetian villages. Eight years ago there was a war over here involving Russia, Georgia and South Ossetia which is know a partially recognized state.
But the Kazbegi area is not the only fabulous place in Georgia. Another must-see is Svanetia, a historic province, inhabited by Svans. It was so remote that not even the Mongols reached it. Svanetia became Georgia's cultural safe house.
While Mestia is the capital of the region, Ushguli is the village you want to discover. The unpaved road is not too bad, but beware. The landscape is so beautiful that you might get distracted.
The famous Svanetian towers erected in the 9th century are still standing today. They were built for defense purposes and every family had its own tower to protect itself both from the invaders and from the neighbors. Because Georgians are not known just for their hospitality, but also for their passionate wars and bloody vendettas.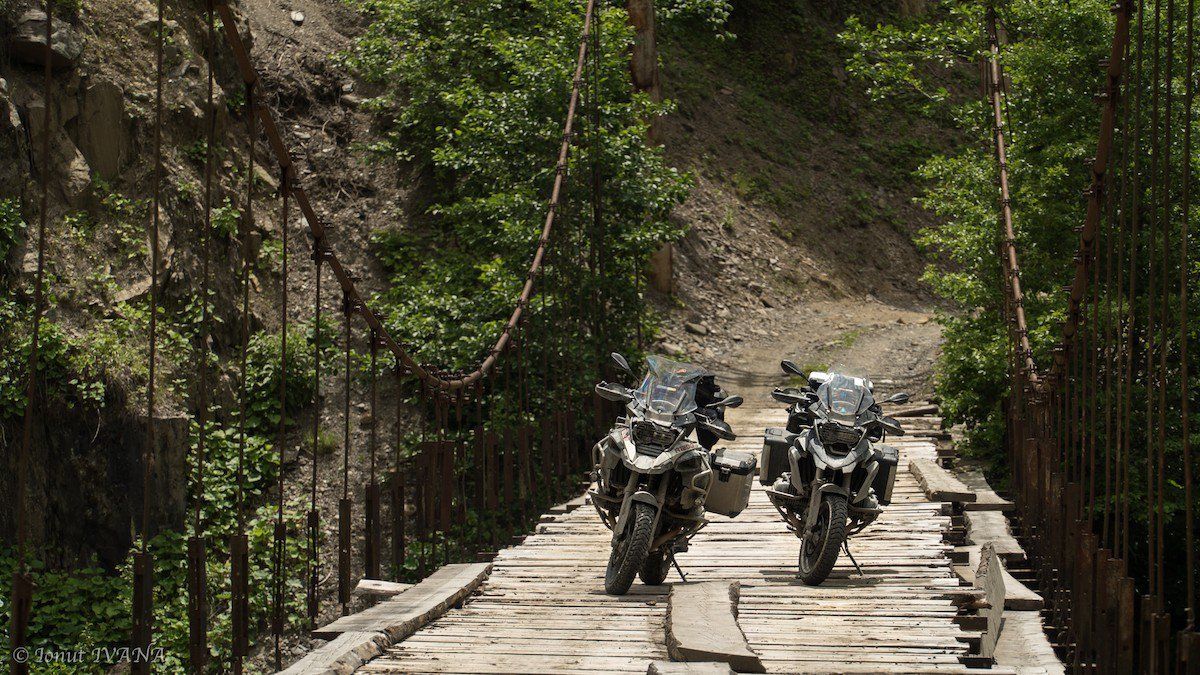 Do you like our work?
Become a DriveMag Riders supporter!
We rely on your donations to cover the most important news on the motorcycle market and create videos that excite, inform, and educate.
Make a one-time contribution or become a monthly subscriber. Every donation, however big or small, is valuable and helps us cover some of the video production costs, like equipment, transportation, and maintenance.
Thank you for being part of this journey.
---