Cool New MachineartMoto BMW R1250-series Engine Guards
BMW protection specialists deliver X-Head 1250 engine guards for Beemer's newest bikes
MachineartMoto's all-new X-Head 1250 cylinder head guards add solid protection to BMW's newerst boxer bikes while delivering great, sleek looks.
New Jersey-based BMW specialists MachineartMoto are about to release their newest addition to the line-up of protection-focused products, tailored specifically for the new R1250 series.
The new add-ons are easy to install using three M5 T25 torx screws and don't add any significant bulk to the bikes, thanks to their special design. The X-Head 1250 are a natural evolution of the company's proven X-Head LC, X-Head-SOHC and X-Head DOHC protectors and use top-drawer materials and craftsmanship for impeccable performance.
These protectors are made from a special formula injected polymer that boasts exceptional impact strength. Temperature and UV stabilization makes sure these add-ons remain in shape no matter how long you ride in the sun or if your engine heats up above the usual levels.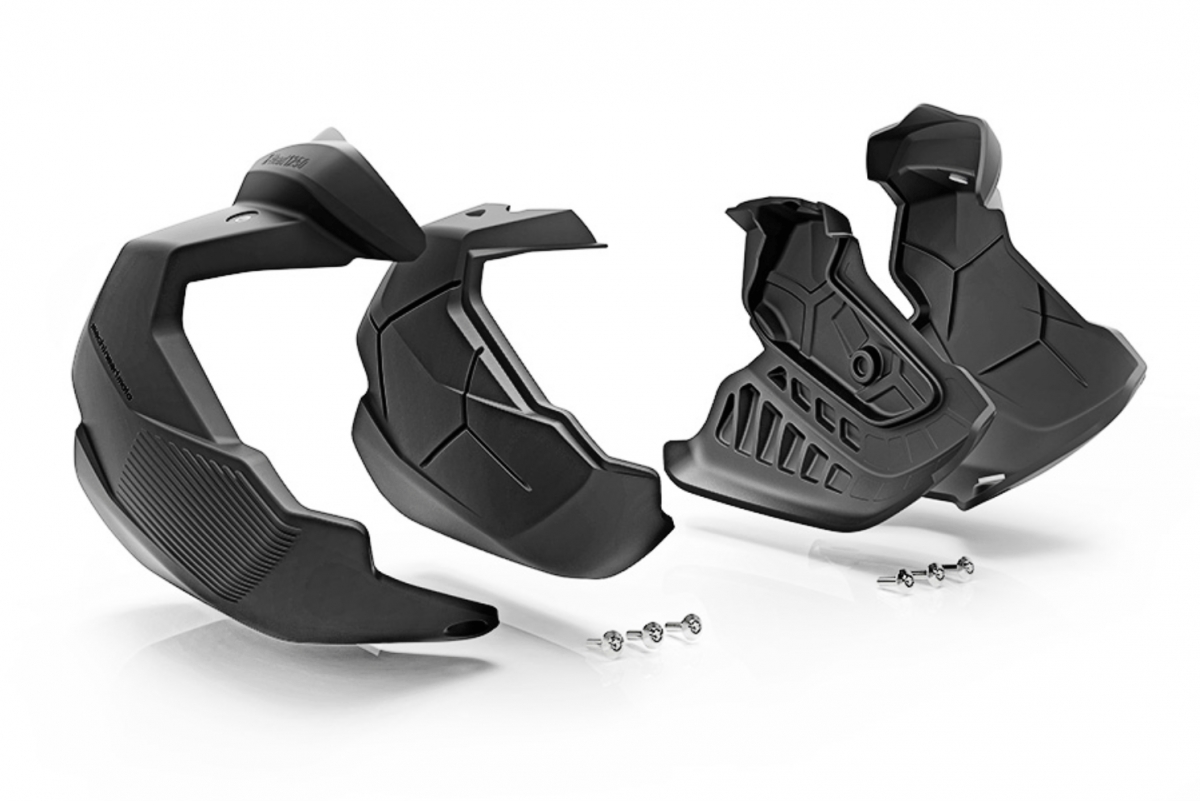 On the inside, the X-Head 1250 have a thermoplastic layer of special rubber that helps dissipate impact energy and acts as a heat shield. The outside cap is made from a slightly ductile type of nylon that won't break when hitting the asphalt during a fall or upon impact with rocks and boulders off-road. These protectors cover up to 70% of the cylinder head area that's usually exposed to impact in various crash and adventure scenarios.
If you're not a big fan of crash bars, the MachineartMoto X-Head 1250 are a top choice, even though you'll be able to install these with certain aftermarket steel protector systems. Also, the aesthetics of the bike they're installed on will not be negatively affected.
MachineartMoto is already taking pre-orders, with the X-Head 1250 protectors delivery slated for this July. Obviously, they also are compliant with all the new BMW 1250 machines, including the GS, GS Adventure, RT, R, and RS, setting you back $220, possibly less when bundled with other MachineartMoto protection accessories.
Do you like our work?
Become a DriveMag Riders supporter!
We rely on your donations to cover the most important news on the motorcycle market and create videos that excite, inform, and educate.
Make a one-time contribution or become a monthly subscriber. Every donation, however big or small, is valuable and helps us cover some of the video production costs, like equipment, transportation, and maintenance.
Thank you for being part of this journey.
---