Indian FTR1200 2019 unveiled
One of the first series flat trackers out there
Indian surprised everybody with a very bold and cool-looking bike for 2019. It's very different from any other Indian model but, somehow is very appealing. The Indian FTR1200 is not the bike you see every day this is a street-worthy flat tracker that is meant to celebrate the beginning of a new era of American Motorcycling.
Below you can watch our video of the FTR1200 at Intermot, or you check it out directly on our YouTube Channel.
The bike is inspired by the competition winning FTR750 race bike that Indian built it to conquer the mud. The same tracker style was borrowed for the FTR1200, and besides the looks, the numbers are looking very good for this new Indian. The 1203cc V-twin engine produces 120 HP making the new FTR1200 a serious machine.
The engineers took all the goodies from the racing world and adapted for the street. For example, the gas tank is moved underneath the seat to create more room in the front for the airbox to seat exactly above the intake. The frame is a steel trellis unit that looks just like the one on the FTR750 and the svelte tail unit gives it a line to fall for while the inverted front forks makes it look more aggresive.
The exhaust system swipes around the centre of the engine with a set of two mufflers pointing at the tail unit. The wheels design shares the same racing look, and they come complemented by a Brembo braking system to keep the performance at a high level.
For the electronics, the FTR1200 ticks the box for the mandatory ABS, and it also features LED lighting for the standard version. The S model packs the best thing you can buy for your bike. On top of the list, you get lean sensitive ABS, traction control, TFT dash, riding modes and adjustable suspensions. For the standard FTR1200 you will have to pay 12,999MSRP, and for the S model thing come a bit more expensive with a price of $14,999, but the S model features everything that you ever wished for on your street bike.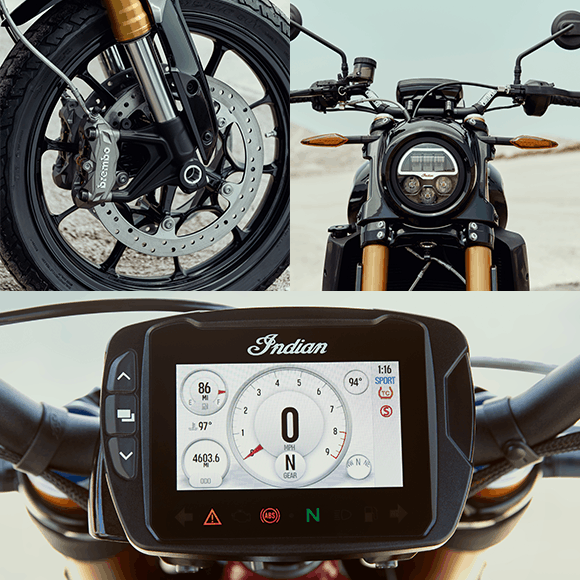 Read more: