Matthias Walkner wins the 2018 Dakar
Another KTM win at the hardest rally in the world
The Red Bull KTM rider Matthias Walkner secured his victory today in Córdoba. With a lead of around 20 min, he managed to obtain his first overall triumph on the Dakar. A thriving combo for the guys at KTM after remaining undefeated at Dakar since 2001 and this time with an Austrian rider in the saddle.
A smart win from Matthias Walkner
The official KTM rider proved that the rally is not always about fast riding. Navigation and a well thought strategy is a certain way to victory. The fate of this year's Dakar was decided in the 10th stage when Walkner kept a steady pace and focused on navigating trough Belén river beds. He won the Belén stage putting 39 minutes between him and the second position overall.
"It's really, really amazing. I was never thinking that I really could win. The goal was to stay on the podium, but it was so close this year and day ten was a key day. Maybe luck was on my side this time, but it's really a dream come true. It was a really crazy Dakar. The riding level was so high. There were five other people who could have won it but it looks like I was the lucky one. I was surely a little bit lucky. I think that on the Dakar you need a bit of luck on but sometimes you have it and sometimes you don't have it. This time it was on my side. In 2016 after my bad injury, that changed a lot for me. It's so cool to be back here".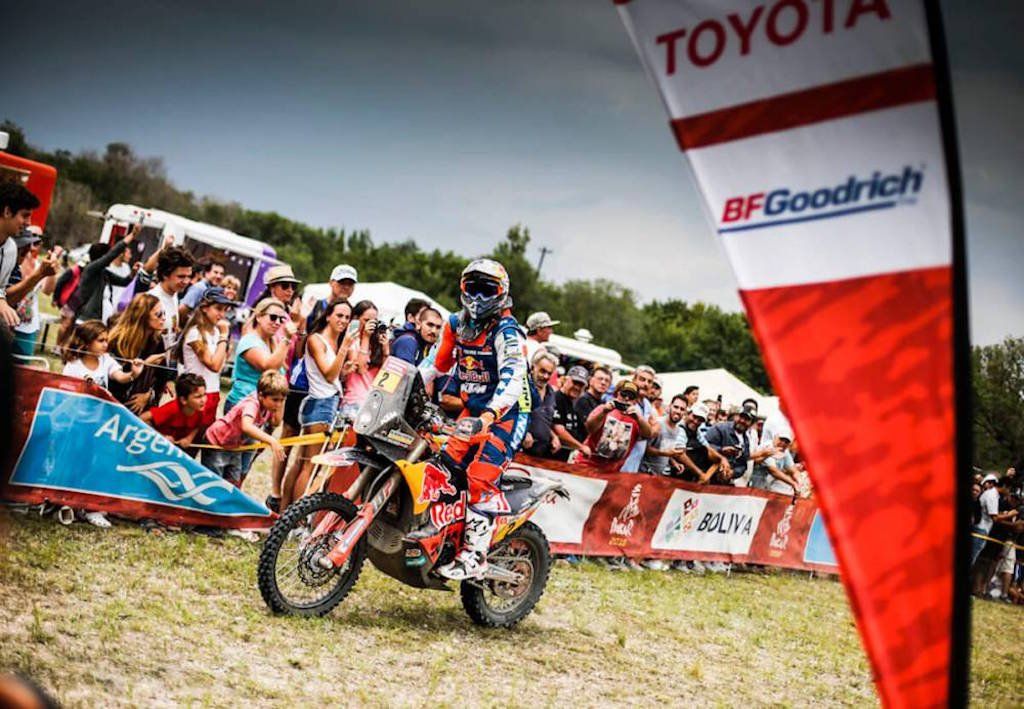 The last three stages the 31 years old Austrian kept a steady pace and managed to arrive between the top ten. Dealing with the pressure is not an easy job but, Walkner was a man with a mission. Today he arrived eight 5min 38seconds behind Kevin Benavides but, the victory was already under his belt.
The 14th stage winner Kevin Benavides finished the Dakar second, 15minutes 35 seconds behind Matthias Walkner. The Argentinian had a great performance in this year's Dakar managing to lead overall at some point and a victory in the closing stage in Córdoba.
The second Red Bull KTM rider to take a podium finish this year Toby Price came second in today's special, 54 seconds behind Kevin Benavides. Price won two stages, but the navigation problems in the 10th day limited his chances for overall victory.
Stage 14 results:
1. KEVIN BENAVIDES - MONSTER ENERGY HONDA TEAM - 01H 26' 41''
2. TOBY PRICE - RED BULL KTM FACTORY TEAM - 01H 27' 35'' + 00H 00' 54''
3. ANTOINE MEO - RED BULL KTM FACTORY TEAM - 01H 29' 30'' + 00H 02' 49''
4. DANIEL OLIVERAS CARRERAS - HIMOINSA TEAM - 01H 30' 06'' + 00H 03' 25''
5. JOHNNY AUBERT - GAS GAS MOTORSPORT - 01H 31' 00'' + 00H 04' 19''
6. ORIOL MENA - HERO MOTOSPORTS TEAM RALLY - 01H 31' 42'' + 00H 05' 01''
7. GERARD FARRES GUELL - HIMOINSA RACING TEAM. - 01H 32' 04'' + 00H 05' 23''
8. MATTHIAS WALKNER - RED BULL KTM TEAM - 01H 32' 19'' + 00H 05' 38''
9. JOSE IGNACIO CORNEJO FLORIMO - HONDA - 01H 34' 38'' + 00H 07' 57''
10.JUAN PEDRERO GARCIA - SHERCO TVS RALLY - 01H 37' 34'' + 00H 10' 53''
Overall 2018 Dakar results
1. M. WALKNER - KTM - 43:06:01
2. K. BENAVIDES - HONDA - 43:22:54 +0:16:53
3. T. PRICE - KTM - 43:29:02 +0:23:01
4. ANTOINE MEO - KTM - 43:53:29 +0:47:28
5. GERARD FARRES GUELL - HIMOINSA- 44:07:05 +1:01:04
Do you like our work?
Become a DriveMag Riders supporter!
We rely on your donations to cover the most important news on the motorcycle market and create videos that excite, inform, and educate.
Make a one-time contribution or become a monthly subscriber. Every donation, however big or small, is valuable and helps us cover some of the video production costs, like equipment, transportation, and maintenance.
Thank you for being part of this journey.
---