5 Not-So-Ordinary-Motorcycles: Ariel Square Four
Whispering Wildfire - The smoothest British motorcycle of its time
In the last article of the 5 Not-So-Ordinary-Motorcycles series, I'm going to present a motorcycle that is peculiar through the unusual architecture used for its powerplant: the 1954 Ariel Square Four
But first, let's go back in time a little bit, to the roots of Ariel.
Ariel Motors Ltd. was a British motorcycle manufacturer based in Bournbrook, Birmingham. The company dates back to 1847 when the company made pneumatic tires for horse-drawn carriages. In 1870 James Starley and William Hilman invented the wire-spoked wheel and revised the company name to Ariel.
The new wheel allowed them to build a lighter bicycle. In 1885, James Starley invented the Rover safety bicycle - the bicycle in its modern shape as we all know it: chain-driven rear-wheel drive with two similar-sized wheels.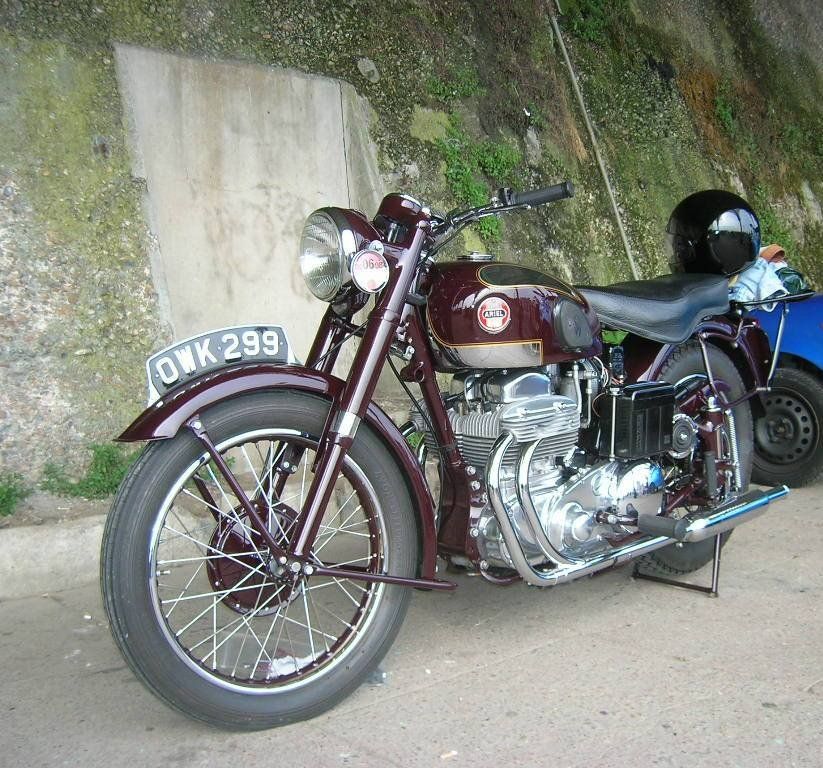 The first Ariel vehicle produced in 1898 was a tricycle powered by a 2.5 hp De Dion engine mounted in the rear.
The company was purchased in 1902 by Charles Thomas Brock Sangster and began producing motorcycles.
Read also: 5 Not-So-Ordinary-Motorcycles: Brough Superior SS100
Ariel went into receivership in 1911 and the 1930s. Back in 1932, the son of Charles Sangster, Jack Sangster, bought the company at a low price, renamed it Ariel Motors J.S. Ltd. and resumed production.
In 1951, the company was sold to BSA, but the Ariel brand survived until 1967. The 'Ariel' name was reused in 1999 for a new organization called Ariel Ltd, an exotic sports car producer.
Ariel Square Four is a motorcycle produced by Ariel for 28 years, from 1931 until 1959. It was designed by Edward Turner, who also envisioned the square-four engine back in 1928.
The early engine model was fitted with "two transverse crankshafts." Basically, it had a pair of OHC parallel twins joined by the geared central flywheels and a square four-cylinder block with a single head. Previously, BSA rejected the idea for this engine, but it was adopted by Ariel.
Fun fact: do you know this motorcycle's nickname? – It's "The Squariel."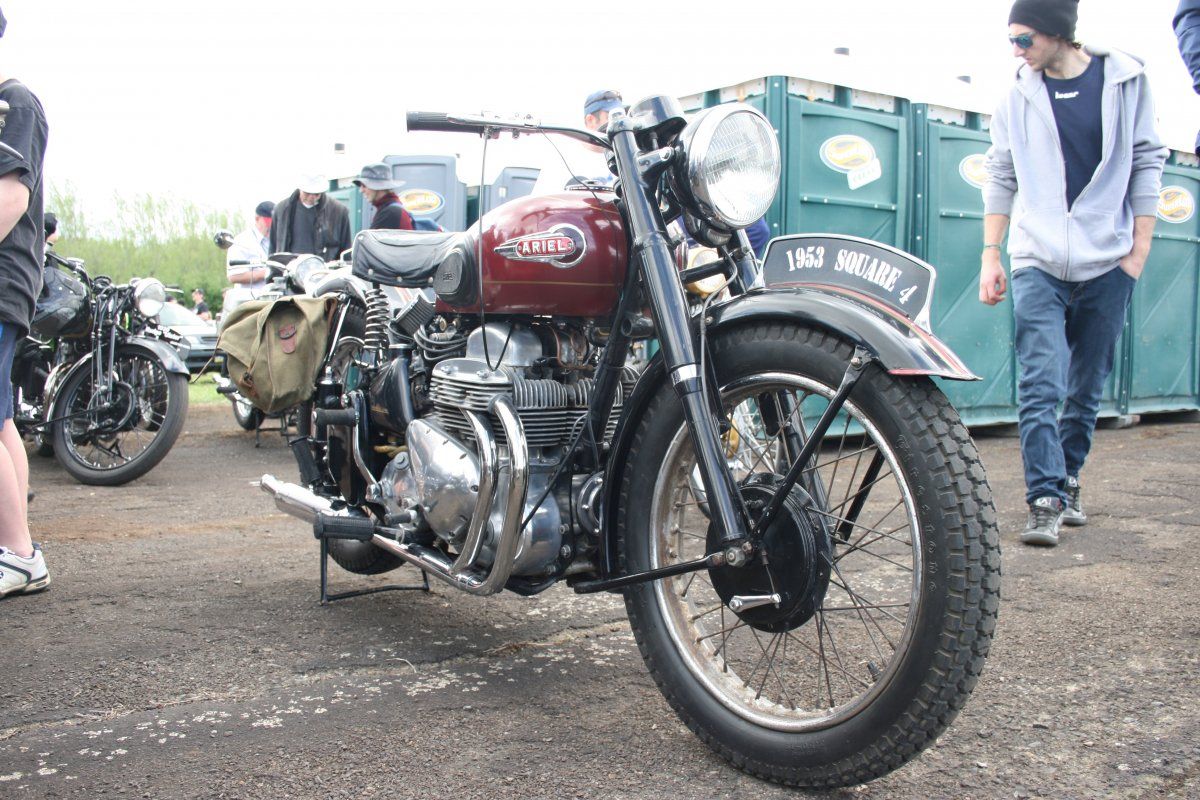 But enough with the history lesson, let's talk a bit about the technical specifications of the Mk II model (1953-1959) also called the "Whispering Wildfire" as the manufacturer described it.
The 4-stroke square-four alloy lump had a capacity of about 60 cu in (997 cc) and sported 8-valves that were controlled by an OHV system.
An SU MC2 carburetor fed the power-giving mixture of air and fuel, boosting the engine to approximately 40 bhp (30 kW) at a crazy spin of 5800 rpm, pushing the bike to speeds exceeding 100 mph.
The 40 wild horses were put to the ground with the help of a 4-speed gearbox linked to a chain drive. To stop the 425 lb machine, drum brakes were provided: a 7-inch drum on the front wheel and an 8-inch drum for the rear.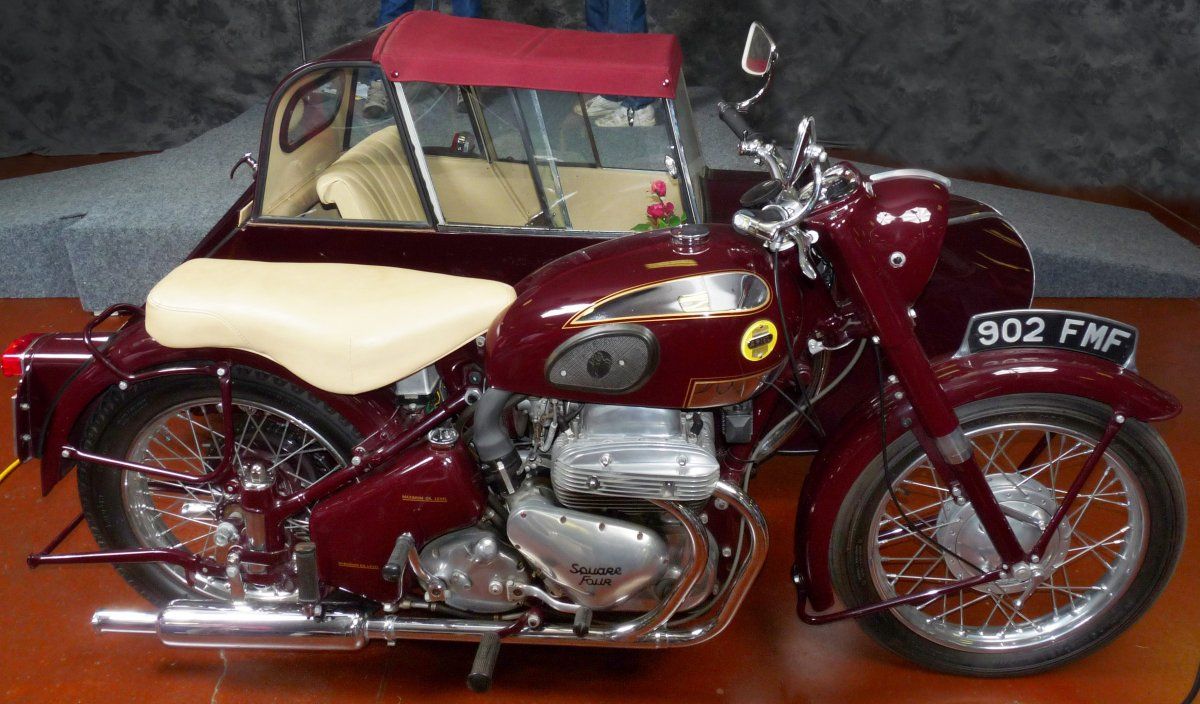 The price for this motorcycle was pretty steep, at about £336. Here is what Phil Vincent wrote in the British magazine Motor Cycle in 1966:
"Alas, in 1959 the Square Four went out of production, a victim of the modern trend towards small, high-revving modern power units. The demand had tailed off a bit, and with reduced output, the price would have had to be hoisted excessively high. At the time it was approaching £350, out of reach of all but a few of the potential buyers."
Back in 1954, Ariel had some prototypes of a Mark 3 Square Four that used Earles forks, but sadly, this model never reached the production conveyor belts. Several years after, in 1959, the production of the Square Four along with other Ariel four-strokes models ceased.
You can admire a 1956 Ariel Square Four at the Solvang Motorcycle Museum in California, USA.
Photo credits: https://www.wikimedia.org/
See other bikes from our 5 Not-So-Ordinary-Motorcycles list:
5 Not-So-Ordinary-Motorcycles: Megola
5 Not-So-Ordinary-Motorcycles: Henderson Streamliner
5 Not-So-Ordinary-Motorcycles: Brough Superior SS100
Do you like our work?
Become a DriveMag Riders supporter!
We rely on your donations to cover the most important news on the motorcycle market and create videos that excite, inform, and educate.
Make a one-time contribution or become a monthly subscriber. Every donation, however big or small, is valuable and helps us cover some of the video production costs, like equipment, transportation, and maintenance.
Thank you for being part of this journey.
---